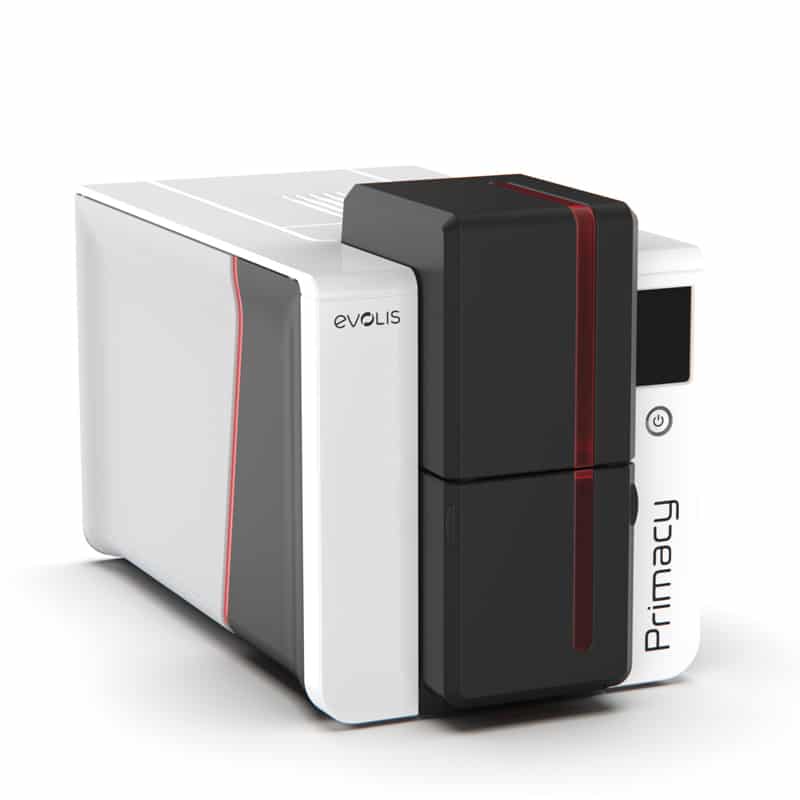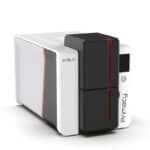 Evolis Primacy 2
Edge-to-edge printing, single or double-sided*
Color sublimation / monochrome thermal transfer

Rewrite technology

for rewritable cards
Up to

280 cards per hour

(color printing, single-sided)

100 or 200-card feeder*

(200-card feeder can be integrated on site)
300 dpi
Color adjustment via

color profile

Multiple encoding options
Printing of

UV effect*

Double layer overlay*

Scanner*
*available on some models or as an option
Product Specifications
Reviews (0)
DRIVERS & DOWNLOADS
Description
GENERAL FEATURES
Color sublimation directly on the card and resin thermal transfer
Rewritable card printing
Single or double-sided print module
Print resolution:
– In color and monochrome: 300×300 dpi & 300×600 dpi
– In monochrome: 300×1200 dpi
Print optimization via color profile
User interface: LED panel or LCD touch screen
PRINT SPEED
Single-sided (YMCKO): up to 280 cards/hour
Double-sided (YMCKOK): 170 cards/hour
Single-sided (YMCK) with lamination module: up to 215 cards/hour
CARD MANAGEMENT AND SPECIFICATIONS
Feeder capacity: 100 cards (0.76 mm – 30 mil)
Hopper capacity: 100 cards (0.76 mm – 30 mil)
Rear hopper capacity: 50 cards (0.76 mm – 30 mil)

2

Card types: PVC cards, composite PVC cards, PET cards, ABS cards, and rewritable card
PORTS/CONNECTIVITY
USB (cable supplied) and Ethernet
Wireless connection 802.11b/g on Wireless range
EVOLIS HIGH TRUST® RIBBONS
To maximize the quality and lifetime of the printed cards, the service life of the print head, and the overall reliability of your printer, use Evolis High Trust® ribbons.
Automatic recognition and setup
Ribbon cassettes for one-step installation or an EASY4PRO offer without cassette for users who want to reduce their environmental impact.
– YMCKO: 300 prints per roll
– YMCKOK: 200 prints per roll
– YMCKOO: 250 prints per roll
– Black monochrome: 2000 prints per roll

1
LAMINATION (OPTION)
Standard single and double-sided
Extensive laminate offering: patches (600 sides per roll) and varnishes (1,200 sides per roll), with or without hologram, alternate laminates (contact chip cut-out / magnetic stripe cut-out).
List of laminates available at www.evolis.com
OPTIONS INTEGRATED ON SITE
Double-sided activation key ∙ 200-card feeder
LCD touch screen
Lamination module
SECURITY
Kensington

®

security lock
Optional mechanical locking system
Print head protection during maintenance or ribbon changes ∙ Erasing sensitive data from the printer memory
Kineclipse

®

optional
Optional internal scanner reader
ENCODING MODULES
Magnetic stripe encoder ISO 7811
Contact smartcard encoders
Contactless smartcard encoders
Dual smartcard encoders (contact / contactless) ∙ Options can be combined
Factory or on-site installation
SOFTWARE
Printer management by Evolis Premium Suite for Windows, Mac, and Linux
Evolis SDK available for easy product integration
Supplied with cardPresso XXS for designing and printing badges
OS compatibility list available at www.evolis.com
WARRANTY CONDITIONS
3 years for the printer
Optional extended warranty available